J. Parrino's Queen City Deli's South Side Sicilian Po-Boy Selected For 10 Incredible Sandwiches in Springfield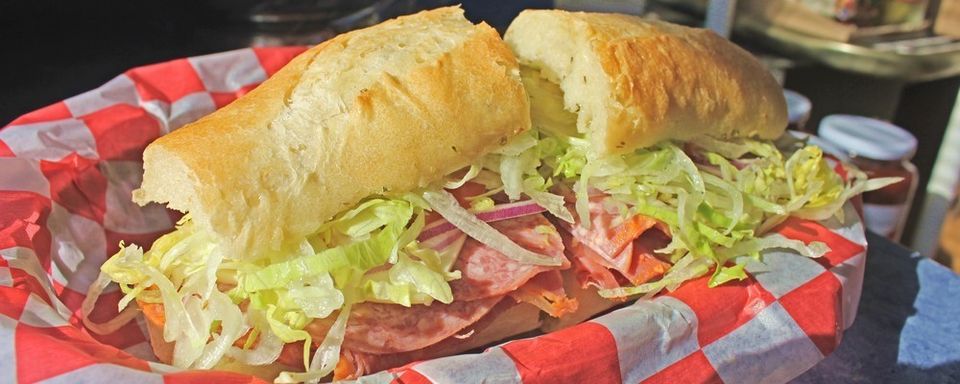 The Springfield Convention and Visitors Bureau asked their followers on Facebook, Twitter and Instagram to share their favorite sandwich in Springfield and they learned quickly that people are passionate about their sandwiches!
Our South Side Sicilian Po-Boy was selected as one of the 10 local favorites!
View the full article here.
Dine on our Dime: Queen City Deli
Katie Tonarely - Springfield News-Leader
July 29, 2015

Sometimes a Springfield original favorite evolves over time. Jay Parrino introduced his St. Louis Hill-style favorites to us in the '80s, and now he's continuing his tradition with the Queen City Deli on East Sunshine. Reader Sarah Averett says she could eat Italian every day of the week, and Queen City Deli is definitely one of the best around.

Sarah's Take

Sarah discovered Queen City Deli by accident, when the restaurant she and her husband, Nathan, were intending to visit was surprisingly closed. They had passed Queen City Deli, so they just headed back. "I drive by it all the time." And soon, a new Italian favorite was born. She now visits for food, but also to purchase sauce from the deli's retail store. "The marinara sauce is delicious," she says. She enjoys pouring it on pasta at home. Sarah opts for the cannelloni ($8.50), and I suggest we start with the pizza bread ($4.35). "I like that the bread is still moist," she says. Plus, she gets a house salad with her pasta. "I really like their dressing," she says. "It's cheesy and kind of sweet, but not super sweet." Diners can purchase the dressing to take home, too.

The pasta comes loaded with cheese, and the super buttery sauce is a blend of the red and white sauces, both of which says are made in house and just delicious. She lets me have a bite, and I fall in love, too. "Isn't that good?" Red sauce is great, she says, but when Queen City Deli adds that white sauce, it makes for a creamy topping to her huge shells. She notes that the portions are perfect for lunch. Pasta can be heavy, so it's nice to be able to keep portions in check.

Sarah's normally not a tiramisu gal, but she enjoys sharing a piece with me. "It's very difficult to make a good tiramisu," she notes. After one bite, she raises her eyebrows in approval. "It's moist but not dripping," she says. The tiramisu is a great way to end our lunch.

Katie's Take

We covered Queen City Deli for Dine on our Dime a few years ago, and to be honest, I hadn't visited since. At the time, it was good, but the odd East Sunshine location had restaurants that seem to come and go with no real rhyme or reason. Did Queen City have staying power? Four years later, and it's clear this place isn't going anywhere. And my visit with Sarah tells me why: it has amazing St. Louis-style flavors at reasonable prices and is the perfect spot for a quick lunch during the weekday business rush.

I'm super hungry and ready for lunch. Sarah says Italian is her favorite; typically I shy away from it, because of the heavy feeling. Today, though, I'm ready to dig in, and I'm craving a meat-filled, heavy sandwich. I ask Parrino which sandwich is the best, and he mentions several, and I decide the Parrino's Special ($6.77) looks like a perfect fit for me. It has prosciutto, salami and roast beef on garlic cheese bread and topped with house salad. Yep, you read right. A sandwich that's topped with salad. As a veggie lover, I feel this must be the best of both worlds.

We munch on the pizza garlic bread. I'm jealous of Sarah's salad, but I know I've got mine coming, just in a different way. The pizza bread is fairly basic, and it has ample meat to add hearty flavor. I might go with regular cheese bread next time and just have the house-made marinara on the side.

My sandwich is everything I expected. The bread is soft, but has enough firmness to hold the piles of meat. And speaking of meats, they all blend together well. Plus, the cool salad has some of Parrino's house dressing, which brings the whole sandwich together. It's no wonder this is one of the store's most popular sandwiches.

I'm a fan of tiramisu, and I feel that people who can master it must be some sort of wizards, because I rarely taste a homemade tiramisu that meets the mark. Queen City Deli's is spongy, and I can definitely taste the coffee and liquor flavors. Those are some of my favorite flavors, naturally, so I eat my half of this dessert quite happily.

The Dish, the Restaurant

Owner Jay Parrino grew up on The Hill in St. Louis. Though he's had other projects in the area since the '80s, he patterned Queen City Deli after some of the delis he visited as a kid. He calls his deli somewhat of a hybrid, as it has the traditional restaurant, but also a deli counter and a retail store. "We have customers who come in just to buy the pasta, sauce and homemade meatballs or Italian sausages by the pound," he says.

Parrino grew up in an Italian family, and as the baby, he was always in the kitchen with his mom. When it was time to find a job as a teenager, he found experience in restaurants on The Hill. "We all worked in restaurants around the neighborhood," he said.

He took his knowledge and brought it to Springfield. "All of the sauces are made here; I take care of those myself," he says. The cannelloni comes covered with his red and white sauces. For a while, in the '80s, he had to make weekly trips back to St. Louis to get the authentic products he needed. Now, the market is fairly saturated, and he comes by his ingredients more easily.

Parrino grew up with a sandwich similar to the Parrino's Special. "As kids, we used to go to a restaurant and have the Fala's Special," he says. He says it's the combination of the hot meat and cold salad that makes that sandwich special. "We serve the meatiest sandwiches in town," he says.

Though the tiramisu isn't made in house, the cannolli is. Folks who love Italian definitely need to check out the Queen City Deli. The meat counter, the retail shop — it's great that Springfield has a "Hill" option right in our backyard.
J. Parrino's Queen City Deli brings a big city deli feel to Springfield.
Dylan Whitaker - 417 Magazine
March 2012

J Parrino's Queen City Deli reminds me of a sandwich shop you would see in an episode of The Sopranos, minus the fat guys in jumpsuits. As you walk in, you're faced with a little market area that has some dried pasta and pasta sauce along with things like Zapp's chips. Don't know what Zapp's are? Then go try them. The restaurant space then flows into a glass cooler where you can purchase an array of to-go items, such as olives, meatballs, sausages and cheeses. Then you get to the register, where you place your order.

J. Parrino's has a fairly large menu with a couple of soups, four appetizers, seven salads, 12 sandwiches and 12 pasta dishes. They also have beer and wine, a nice bonus. My wife, Anna, and I had to grab a menu, take a step back and peruse all the yummy options. My eye caught The Burnes, and Anna sniffed out the pastrami on rye.

The seating in the dining room is very casual with a couple high-top tables and some regular tables. The service was super-quick and really friendly, even after I asked them to turn the music down.

The Burnes, which I was told was the second-most-popular sandwich on the menu behind the Italian beef, is simply beef tenderloin on garlic cheese bread. As it was placed in front of me, I was thinking to myself, "That's it?" But the smell from the half-inch-thick grilled tenderloin started to creep my way, and like a shark sensing blood in the water, I attacked!

The tenderloin is so juicy and tender, it really just melts in your mouth. The French bread (which is made fresh at the Artisan's Oven) is just phenomenal: Golden brown on top, crispy outside edges around the entire loaf and a nice, fluffy center. The garlic cheese blended with the buttery tenderloin and the wondrous bread really make this simple sandwich. After eating it, I realized it's simple because The Burnes needs no improvement.

Anna is a big fan of pastrami, so when she saw the words "piled high," J. Parrino's had her. The pastrami sandwich comes from the New York–style part of the menu. It was actually piled so high that Anna ended up having to cut individual bites with a knife.

The pastrami sandwich was served warm on Jewish rye that was pillow-soft. The pastrami had a great salty flavor with a nice kick of pepper. It was incredibly tender and not chewy at all. The spicy deli mustard was so good, you could feel the horseradish flare with each bite. The sandwich was enormous, but I was nice enough to help her out and finish it, so she wouldn't feel bad.